Turning It Around During Challenging Times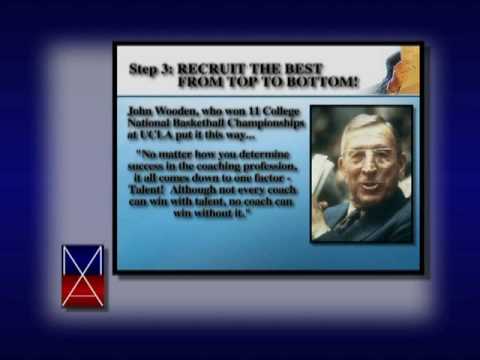 These are challenging times! As a competitive former college basketball coach and as a competitive current stand alone businessman I have experienced many challenges and one by one I have come out the other end with quantifiable better results than the circumstance I inherited.
Here are a few examples of the types of challenges I have faced and the end results:
As a college basketball coach I took over three college basketball programs that had won only 34% of their games the season before I arrived. In my final season at these same three universities we won 64% of our games.
As a professional salesman, I worked for 6 years for a manufacturing company that had sales of $46,000,000.00 as I arrived. Six years later our sales team grew that business to $92,000,000.00.
I started my own company in 1999. We are consistently growing and enjoying our best sales year ever!
So the obvious question is how have we overcome these negative odds in radically different markets?
The learning outputs revolve around 5 basic fundamentals of individual and team leadership strategies.
Step 1: Re-Create the Vision
Coach John McLendon had a vision based on his hope for the possibilities of integration in Durham, NC in 1944. Is your vision about people or profits. Are you effectively driving that vision? Are you effectively promoting your safe and sound business/financial practices?
Step 2: Recruit the Best from Top to Bottom
John Wooden, who won 11 college national basketball championships, put it this way, "No matter how you determine total success in the coaching profession, it all comes down to one factor- Talent! Although not every coach can win with talent, no coach can win without it."
Step 3: Be Clear About Your Expectations
During WWII General Dwight D. Eisenhower was contacted by General George Marshall. Eisenhower was informed that he would take over the command of the allied forces in London in WWII. His orders were clear:
Proceed to London
Invade Europe
Defeat the Germans
The mission was: CLEAR, ATTAINABLE, DECISIVE, and SPECIFIC!!!
Step 4: Play to Your Strengths
I often see business leaders who establish their strategic plans based on the tactics it will take to beat the competition. Real coaches understand that the entire game plan should revolve around individual and collective talents which they possess as a team. Talent combined with real coaching wins games, PERIOD!
Step 5: Keep it Simple!
Amish farms are the most profitable farms in America according to a study by Ohio State University in 2002. They keep it simple with the use of tried a true tools and they even use simple technology to drive efficiency and profitability. Do you go the extra mile to plan and prepare to address your customer's specific needs? Do you insure profitability through the simple use of technology? The Amish do and there collective business success can be a powerful reminder to all of us that the old ways still work!
Invite Mark Adams to COACH YOUR TEAM! Learn the lessons of how to TURN IT AROUND DURING CHALLENGING TIMES!
Other Topics
Recent Blog Posts
Why Hire Me?
I am a REAL coach with a unique perspective on what it takes to be successful in today's competitive world.
I 'scout' your individual and key team members up front and use their input and direct quotes to craft a message that fits their challenges and needs.
When most speakers are done they grab their check and walk out the door. Not me, I coach your team members long after the applause dies down. I give every audience member my personal e-mail address and cell phone number and invite them to check-in with me in 30 days.
I love coaching before, during and after the event!
---
Success Stories
Read real stories and unedited letters from clients!
---
Connect With Mark